Other Names Used
Maxwell John Phipps
Page Shortcuts
Bio/Trivia
Other Credits
Images
Contact Info
Related Links
IMDb entry
Phipps, Max
---
Biographical Notes & Trivia
Birthday: 18 November 1939 (Parkes, New South Wales, Australia)
Max passed away on 6 August 2000, in Sydney, Australia, of cancer.
---
Other Credits
| | |
| --- | --- |
| Television: | All Saints; Bellamy; Bligh; The Blue Lightning; Boney; Delta; The Dingo Baby Case; The Dismissal; Fire; Glenview High; Halifax f.p; Inspector Morse; The Miraculous Mellops; The Miraculous Mellops 2; Mission: Impossible; My Brother Tom; Noah's Ark; Police State; Screen One: Filipina Dreamgirls; Shannon's Mob; Sky Trackers; Snowy River: The McGregor Saga; Special Squad; This Man... This Woman; The Tony Hancock Special; True Believers; Without Warning; Women of the Sun |
| Film: | The Cars That Ate Paris; Dark Age; Dead Easy; Emoh Ruo; Mad Max 2: The Road Warrior; Nate and Hayes; Nightmares; The Return of Captain Invincible; Sky Pirates; Stir; Thirst; What the Moon Saw |
| Theater: | - |
| Other: | - |
---
Non-Farscape Images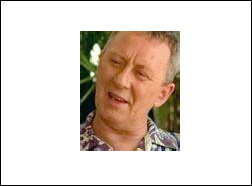 As Edward Martin "Dinosaur" Spence in the television series "Fire" (1995).
---
Contact Information
not available